"
And you two! I didn't see that one coming.
"

— Joy Mercer to Mick Campbell about his relationship with Mara
Refresh for another quote
Moy (M/ick and J/oy)is the friendship or otherwise romantic pairing between Mick Campbell and Joy Mercer. There are currently only a few moments between them, because Mick's departure in season two occurred shortly after Joy's return from her getting kidnapped in Season 1. This pairing occurred on Het Huis Anubis and =Das Haus Anubis=, but will not occur on House of Anubis =Season 3 due to Bobby Lockwood leaving the show to act on Wolfblood. If Mick had been in all of Season 2, Joy might have fallen for Mick instead of Fabian like she did in Het Huis Anubis.
Moy Moments
Season 2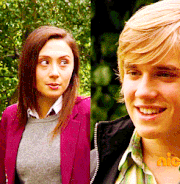 Joy was at Mick's going away party.
Before she hugs Mick, she cries and looks crushed.
She hugs Mick before he leaves to Australia.
Joy was a bit sad when Mick left.
Joy is seen looking at Mick after the Jara kiss.
Mick is looking at Joy while she is dancing with Fabian.
Trivia
In Het Huis Anubis and Das Haus Anubis, the characters Joy and Mick were based on (Joyce and Mick, Charlotte - even though Joy is based on Linn and Charlotte - and Kaya) began dating.
On Anubis Unlocked (Episode 4), there was a segment called "The Odd Couples" and Mick and Joy were one of the couples in the game (with the pairing name Moy).
Bobby, the actor who plays Mick, supports Moy.
Moy Castle is also a trend of the pairing.

Origin of Moy Castle: A House of Anubis fan (PiperLewis from tumblr) looked up Moy on Wikipedia and one of the results was Moy Castle. Since then, the correlation has been attached to one another. Even going as far as Moy living in Moy Castle as King and Queen and Alfie as the Jester. Seen in the picture to the right. (Created by EddieKruegar and Amber-Clarke on tumblr, as well)

It's possible that Moy would've been a couple in Season 2 if Mick had stayed because, in the deleted scenes of House Of Anubis Season 1 finale, Mick was checking out Joy and Joy was checking out Mick in a flirtatious way.
Community content is available under
CC-BY-SA
unless otherwise noted.