Jara  (J/erome and M/ara) is the friendship/romantic pairing of Mara Jaffray and Jerome Clarke. It is revealed that Jerome has strong feelings for Mara in Season 1. Jerome asks her out, but she turns him down because she has not solved "the whole Mick equation". During the election, Jerome told Mara a lot of things about his past, which seems to be a subject he likes to avoid with others. He also told her how his parents left him to "rot" there when he was a five year-old child. He trusted her enough to open up about his past and she cared enough about him to listen.  In Season 2, Mara helped Jerome sort out his problems with his estranged father. Later in Season 2, they pretended to date in order to make Mick jealous. Jerome and Mara also kiss twice during that time. But, their fake relationship comes to an end when Mara decides to attempt a long-distance relationship with Mick. They continue to be friends and as they grow closer,Mara starts to fall for Jerome as well. In the Season 2 finale, Jerome says, "Mara, will you please, please, please go out with me?" Then Mara says, "Yes," softly and they kiss, setting up their new relationship in Season 3. This also marks the end of Mickra. They were still together in the beginning of Season 3, and were stronger than ever. They hint at the fact that they might have spent the summer together. They broke up in House of Trickery / House of Unity. Mara finally forgave him and they got back together in House of Entrapment / House of Sisters. In House of Possession / House of Greed, Mara breaks up with him again for cheating on her with Willow. It is shown, especially in House of Capture / House of Heartbreak, that Mara still has strong feelings for Jerome. Unfortunately, this pairing is unlikely to happen again because Jerome is currently dating Joy Mercer and Mara is presently going out with Fabian Rutter.
Jara Moments
Season 1
When Mara says "And Joy's just gone? That really is weird." Jerome is nodding his head like he agrees with Mara.
Mara sits next to Jerome at the dining table.
When Jerome throws food at Alfie, Jerome and Mara laugh but then both get food thrown at them by Alfie.
The next morning Mara and Jerome sit next to each other again at breakfast.
Mara tells Jerome off for be insensitive about Joy's disappearance.
When Mara says she feels mean about not making Nina welcome, Jerome makes a face at her.
When Mara turns around, Jerome steals food off her plate.
In the school photo, Mara is standing near Jerome.
When Mara says "You're Mr. Fleming's replacement?" Jerome looks away from Mr. Winkler and makes a face.
Mara and Jerome sit together at breakfast.
When Mara asks why their bags are being searched she looks at Jerome
When Mara and Patricia enter the living room, Mara gives Jerome a little look.
When Mara and Amber are on the football field, Mara is looking at Jerome and vice-versa.
They sit together at dinner.
Mara and Jerome sit next to each other at breakfast.
Mara looks at Jerome whilst she's in the kitchen during the party.
Jerome is staring at Mara and after a few seconds, he realizes she's cheating for Mick.
Jerome mouths the words "Mara, Mara, Mara'..." and shakes his head in mock disapproval.
Jerome goes into the girls' bathroom and listens to Mara and Patricia's conversation.
Jerome blackmails Mara by telling her that he will tell Mrs. Andrews that she cheated.
Jerome gives her a big list of chores to do.
They pair up for a drama exercise where the pair must say, "I love you" to express their true emotions.
Jerome says it sarcastically.
After observing Jerome and Mara, Mr. Winkler comments that he likes their emotion in the exercise.
When Mick gets an A on his test (the one Mara cheated on for him) Jerome smirks and pokes Mara in the back saying "Stranger things have happened, huh Mara?" causing her to glare at him.
Jerome makes mara pick gum of his shoe.
Jerome says "I don't know how I managed to get that much stuff on them." and Mara says "It doesn't even make sense how one shoe can have this much gum on it."
When Amber accuses Mara of cheating Jerome says busted under his breath and Mara calls him a creep and says its his fault.
He promises he never said a word.
When Amber attacks Mara he first laughs but then pull Mara off of her.
Mara pushes him off her and tells him to get away from her.
Mara looks at Jerome when he makes Alfie drop the costumes.
Mara looks at Jerome (and Alfie) when they get in trouble with Mr.Sweet for setting off a smoke bomb.
Mara and Jerome both give Patricia the silent treatment for what she did to Amber.
Jerome looks at Mara when Mr.Sweet gives her an A.
Mara and Jerome sit next to each other at breakfast.
Jerome gets interested when he hears Mara say she bets she knows more about sports than Mick.
Jerome scoffs and then says its impossible given that she's both a girl and (no offense) geek.
Mara is not offended but says Jerome should give Mick and her a sports quiz and see who knows more.
When Mara gets the answers correct Jerome looks surprised but impresses at the same time.
When Mara wins Mick accuses Jerome giving Mara the answers and he raises his hands and quickly says no.
Mara and Jerome are both involved in the plan to get Victor to remove the cameras.
Mara and Jerome sit next to each other at breakfast.
When Mara and Mick are talking Jerome says to Mick "Heres Mick and his "training partner"."
Mick later tells Jerome and Alfie to drop the him and Mara stuff and Jerome seems surprised.
Jerome asks Mick indrecously why he would turn down a girl who worships the turf he walks on.
When Mara comes in with her new look, Jerome looks shocked.
Jerome faces Mara and says "Didn't you used to be Mara?!" like he was disappointed that she had changed and liked her the way she was.
When Mrs. Andrews walks into the class room you can still see Jerome looking at Mara.
Jerome makes a face of disgust when Mara puts chewing gum behind her ear.
Jerome looks jealous when Mara kisses Mick.
Jerome later asks if Mara and Mick are going to lip lock again, sounding concerned.
Jerome is pleased things aren't going well for Mick and Mara.
Jerome and Mara sit next to each other at breakfast.
Jerome tricks Mara when they are pulling the prank on Mick.
Jerome asks Mara if she wanted to hang out with him and Alfie since Mick is gone.
Mara says that that would be weird and Jerome looks disappointed.
Alfie asks if Jerome likes Mara.
Jerome says "No, she's the ice queen! Icy queen of ice!" and Alfie just shakes his head in a "Yeah, right." movement (possible Jara shipper).
Mara is sitting next to Jerome.
Mara receives a good luck letter about the play from her parents a few days late and Jerome tells her she is lucky to get a letter at all.
Jerome tells Mara that his parents don't visit.
Mara wants to comfort him, but he leaves.                                      
Mara apologizes to him about bringing up his parents.
Instead of becoming upset or angry, Jerome opens up to Mara.
Mara says, "Who'd have thought it, you have a sensitive side!"
Jerome throws jelly beans in the air trying to catch them in his mouth to impress Mara.
She laughs and says, "That should really be an Olympic event".
He and Mara are playing chess and Mara says that he's good and she's not surprised.
When Jerome said the chess club was lame, she responded, "That's more like the Jerome I know and love".
Mara sits next Jerome at breakfast and in the lounge.
Jerome ditches Alfie for Mara and Mara looks a bit surprised about it.
Jerome nominates Mara for class president and Mara is flattered.
Alfie teases Jerome about liking Mara the whole episode and Jerome never denies the comment.
Jerome looks jealous that Mick and Mara have the same numbers.
Alfie said to Jerome, "Welcome to We-Love-Mara-Land! Population: Jerome".
Jerome offers to be Maras campaign manager for the school-rep elections.
When Jerome asks if Alfie can be his assistant for the campaign Mara says to Jerome "You, yes." and to Alfie "You, no." Jerome then makes a loser gesture to Alfie behind her back.
Alfie then says to Jerome "Yes but she said she loved me. Me, not you. LOSER!" Jerome glares at him
Jerome puts up posters of Mara.
He asks her out on a lunch date.
Jerome calls her pretty, smart, and "actually has a future".
He says she deserves someone better than Mick (like him).
Mara became offended by this. Jerome immediately takes it back, but still meant what he said, so Mara left him.
When Mick surprises Mara at school, by coming back, Jerome looks very upset.
Jerome flinches when Mara calls Mick her boyfriend.
Jerome asks if Mara would fancy watching a movie with him.
Mara was about to say yes when Mick asked her to go on a walk with him.
Later that night, Jerome asks her again, but she says she can't because Mick was doing something romantic for her.
When Mara says Mick and her are back on, Jerome looks really upset.
Jerome sees Mick setting up a dinner date for Mara, with candles, and tells Victor about it.
When Mara confronts Jerome about putting up the posters of Amber, Jerome tells her about how his parents left him at the school to "rot".
Jerome doesn't lie to her when Mara asks if Mick was seeing someone else when he was in California, even though he really wants to.
Jerome says Mara brings out the best in him.
Jerome asks Mara if she confronted Mick about the letter.
Jerome tells Mara about Mick rigging the election; this shows how much he cares about her feelings.
Jerome was listening and watching Mara and Mick fight about the elections.
Jerome looks concerned when Mara leaves to talk to the teachers.
At first when Mara and Mick talk about their relationship, Jerome looks a bit shocked.
When Mara says "We're finished." to Mick her eyes drift off over to Jerome.
Jerome looks really happy when Mara and Mick break up and says to Amber "Now that's what I call a result!" with a ready hand to get a high five.
Mara and Mick get back together and they kiss. Jerome is standing in the room as this happens and looked very jealous.
Jerome looks at Mara when Mick is spinning her around.
Mara is worried about where everyone is at prom so she's even worried about Jerome.
Season 2
On the House of Anubis web page, in the Connections tab, it says that Mara might like Jerome. 
Jerome says, when Mick and Mara were leaving for the movie, that Mara would tell what will happen all the time and Mara looks a bit worried, but Mick just says "Shut up, Clarke!"
Mara seemed a bit jealous when Jerome said he was holding a picture of his ex-girlfriend.
Jerome then says he can't stand the sight of his ex-girlfriend and quickly sits down for class.
Jerome tells Mara he can deny her nothing.
Jerome is really happy when he finds out that Mara dumped Mick
Jerome seemed to try to genuinely comfort Mara before Mick came down the hall.
During breakfast, Jerome looks pleased that Mara is ignoring Mick
Jerome and Mara give each other a "pop quiz" about their personal lives in the hall. Jerome asked Mara about breaking up with Mick and Mara asked Jerome about when he'd start looking for his father.
Mara tells Jerome that she may be interfering, but she wants to stop him from doing something he may regret, this shows that she cares about him and his family life.
During the party, Jerome almost looks guilty for the fact that Mara is so upset Mick is leaving, but he doesn't go and do anything about it.
When Mara is running after the cab, Jerome looks at her.
Mara helps Jerome hire a private investigator.
Mara is very concerned by Jerome's reaction to a letter from his father to his mother.
Mara is concerned when she finds out about Jerome's father.
Poppy interrupts them and asks if Mara and Jerome are an item, after denying it, Mara leaves the two to talk alone.
Mara knows something's up with Jerome's "Donkey Day."
Mara is concerned when Jerome was going to be sick.
When Mara finds out about the scam, she threatens to let the "donkey out of the bag."
Jerome chases after her.
Mara tries to teach Jerome a lesson about scamming his classmates by making him donate all the Donkey Day money.
Mara is concerned when Jerome is trying to finish the carrot eating challenge that Eddie out him up to.
Mara checks on Jerome while he's feeling ill to make sure he's learned his lesson and to tell him he did a good thing.
Mara and Jerome walk together in the hall and discuss his father and Jerome's debt.
Jerome brings Mara a mask and holds it up to her face smiling the entire time.
It seems to be implied that Jerome hasn't even told Alfie about his father and that only Mara and Poppy know.
Jerome is suspicious when he sees Mara talking to Poppy in the library.
Jerome asks Mara to help him hide from Nina and Joy.
Jerome only gives Joy and Nina's money back after Mara tells him to.
Jerome doesn't appear entirely convinced when Mara tells him the letter is from Mick and questions her about it until Nina interrupts them.
Jerome is very upset with Mara for helping Poppy write to their father.
Mara apologizes to Jerome and he tells her that his father wants to see him.
Jerome says he didn't want to tell Mara he was going to see his father in case he chickened out.
Mara offers to go as moral support when Jerome goes to see his dad.
Mara goes with Jerome to the prison and Jerome's father mistakes them for a couple.
When Jerome decides he can't talk to his father, Mara talks him down and convinces him to stay.
Jerome's father says that Mara and Jerome are good together, despite not being a couple..
Jerome buys flowers for Mara and thanks her for being his rock.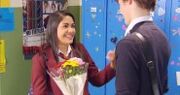 Jerome gives Mara a hug.
Mara gets angry with Jerome when he can't tell her why he won't tell Poppy.
Mara asks if the flowers will squirt water from them
Jerome says no but if she was allergic he would have gotten her plastic flowers
Mara says she'll keep the flowers.
Mara apologizes to Jerome for getting angry and promises to not ask about what he won't tell her again.
Mara gets offended when Jerome still won't tell her.
Jerome confides in Mara that his father wants him to do something that might get him in trouble.
Jerome tells Mara that Poppy found out about their father.
When Jerome says that he has to go back to the prison alone, Mara says it's a pity.
Jerome teases Mara, asking her if she misses him and she hesitates before saying no and giving a different explanation.
Jerome is smiling the whole time Mara struggles for an explanation.
Mara tells Jerome that she's excited about her interview with Mr. Sweet.
Mara can tell something is wrong with Jerome
Jerome tells Mara about his father's task for him.
Mara is happy that Jerome is putting someone else before himself.
Jerome doesn't want Mara to cry because he doesn't want anyone to think he's being mean to her.
Mara hugs Jerome.
Jerome, surprised, hugs her back and smiles to himself.
While hugging, Mara looks up at Jerome with love and admiration in her eyes.
Mara teases Jerome, but then tells Jerome where the suit of armor is as they sit on the couch. Both smiling the whole time.
After meeting with Mrs. Andrews, Mara goes straight to see if Jerome got the gem yet.
Mara goes with Jerome to rinse off the gem.
Mara and Jerome work to take the sink apart together.
Jerome gets upset when Mara leaves to go interview Mr. Sweet instead of helping him.
Mara goes with Jerome to put the gem back in the shield, but they discover it is gone.
Mara sits with Jerome and Alfie during science class.
Jerome laughs when Alfie calls Mara boring.
When Mara looks into the crowd for reassurance, Jerome is among the people she looks to.
Jerome hesitates and looks to Mara when Alfie tells him he needs to practice during a break in Mara's hearing.
Right before Mara got expelled; he came in with a very worried look on his face, and stood up the entire time Sweetie was talking.
Jerome looks very upset when he hears Mara was expelled.
Jerome defends Mara vehemently when she is expelled.
Jerome goes to comfort Mara.
Mara tells Jerome that she looked for him at the hearing but he wasn't there.
Mara gets angry at Jerome because he wasn't there before Mr. Sweet expelled her.
Jerome tells Mara to wait so that he can explain, but she walks out.
Jerome looks angrily at Eddie when Patricia says it was Eddie's fault.
Jerome tells Mara it isn't over until it's over because he doesn't want her to give up hope of her being able to stay.
When Mara is called to Sweety's office, Jerome says he can't just sit there and do nothing. (He is the most worried that she is going to leave because he likes her so much.)
Jerome is the first out the door with a worried look on his face.
Jerome is the first and only person to hug Mara when he finds out she's staying.
Jerome is not upset with Mara when he finds out she told Poppy about the gem and the shield.
Mara watches the tournament attentively..
Mara is the only person with Jerome when he puts back the gem back that isn't family.
Mara watches as Jerome puts the gem back in the shield.
When Poppy says "You should go celebrate", she glances at Mara, implying that she means Jerome and Mara should go out..
Jerome and Mara walk into the celebration together smiling.
Jerome is disappointed when Ms. Valentine mentions Mick because of memory of Mick and Mara.
Jerome asks how Mick can keep ruining his life when Mara and Ms Valentine are talking about Mick.
Mara specifically chooses Jerome to make Mick jealous.
When Mara thinks Mick has an Australian girlfriend, Jerome looks happy.
Jerome and Mara take fake date photos to put online to make Mick jealous.
Mara says that Jerome is a great actor, but Jerome wasn't listening as he was too busy staring at her.
Jerome kisses Mara for a photo, but "accidentally" blocks the photo with his finger and states that "they have to do it again".
Before they kiss for a second time, they both look at each other for moment, gazing into each others eyes.
Jerome kisses Mara again.
Jerome doesn't tell Mara that Mick isn't actually dating someone.
Jerome asks Mara where she's going, and then offers her another fake date saying 'what's the big deal? It's not like you'll get use to me being your boyfriend, is it?' because he wants her to be.
Jerome takes the flowers from Eddie after Patricia 'stands him up'. Jerome takes the flowers, to give to Mara.
Mara and Jerome go on another fake date.
Young Alfie asks how Jerome got so popular and Jerome says that he has a hot girlfriend named Mara.
Jerome tells Young Alfie that Mara isn't his real girlfriend at first.
Jerome tells Young Alfie that he thought if Mara pretended to be his girlfriend for long enough, she'd end up really liking him.
Jerome tells Young Alfie that it isn't easy for him to tell Mara how he feels about her.
Young Alfie tells Jerome that he should ask Mara out on a real date, which shows that Alfie is a Jara shipper
Mara tells Jerome that the Mick thing was a misunderstanding.
She tells him she explained their fake relationship to Mick as Jerome not being able to get a girlfriend.
Jerome is disappointed when Mara says she's trying the long-distance thing with Mick.
Mara thanks Jerome and kisses him on the cheek.
While Mara begins deleting the fake date pictures of them on her profile, Jerome manages to save the one of them kissing saying, "You think you can delete the evidence that easily, Jaffray?"
Jerome goes to Mara for help after he takes Trudy's letter from Jasper's desk.
Jerome asks why the room is messy, as in he expected Mara's room to be neat and organized
Jerome is watching Mara while she reads the letter, and is still looking at her for a moment when she points at the letter to show him what she's found.
Jerome and Mara are talking at the dinner table about the letter from Trudy, which says H E L P M E in an acrostic poem, Jerome tells Mara not to tell the teachers. It is implied that they are the only two students who know about it.
Mara is next to Eddie and Jerome when Vera talks to everyone in Anubis House but is leaning a lot closer to Jerome than to Eddie.
When Jerome finds out that he is now in danger, he convinces Mara that the letter was just a coincidence and that she should stop acting like a journalist. He says this because he doesn't want her to be in danger.
Mara doesn't seem to buy Jerome's explanation, but says she believes him and that she won't go on about it..
Jerome and Mara walk into class together.
Jerome tells Mara he will only go to the prison to visit his dad again if she comes with him.
Mara and Jerome go to the prison together and Mara says she would read their book.
Jerome's dad smiles when he sees the picture of them kissing on Jerome's phone. Jerome kicks his dad under the table not to tell Mara anything.
Mara in the background looks jealous.
Jerome's dad lies and says he was happy about the ping pong. Mara says 'Yeah, you should be very proud
Mara waits for Jerome by the prison gate.
Jerome's dad tells Jerome that Mara is the real gem and that he should be with her and stop messing about.
Jerome agrees, and smiles. Walking towards Mara..
Jerome is disappointed when he thinks that Mara has told Joy all his secrets
Mara is shocked and upset when Jerome confronts her.
Jerome is quick to realize that Mara actually wrote the article, he asks her to tell him everything
Jerome wants Mara to be noticed so he tells Eddie and they both go to Mr. Sweet
Jerome calls Mara's writing insightful and sharp and that she will from now on be appreciated.
Mara beams at Jerome and is smiling happily
Jerome tells Mara that it was only their (Jerome and Eddie) service.
Mara is grateful for Jerome.
Mara thanks Jerome for going to Mr. Sweet and helping her get her job writing for the website back.
Jerome says that Mara deserved to be able to write on the website and that her column was great.
Jerome tells Mara he liked her article about him and his father.
He asks her if that's really how she sees him.
She says she likes him "as a Human being with emotions and a conscience," and that she wishes that Jerome had shown up sooner.
Jerome leans in to kiss Mara, but she leans away.
Mara tells Jerome that she really likes him.
When Jerome assumes she means as a friend, So she clarifies that she likes him as more than a friend.
Mara says she's still seeing Mick, but Jerome tells her she's not.
Mara says they're trying to give the long distance thing a shot.
Jerome says that when she finally gets over Mick, he may have moved on and Mara frowns.
He jokes that there are girls just lining up to go out with him and Mara smiles.
Eddie teases Jerome about taking time off from tailing Mara. Jerome responds that he doesn't tail her; they just often end up in the same place at the exact same time.
Jerome is upset that Mara is constantly away reporting on things since she became a part of the Jackal again.
Jerome is concerned when Eddie tells him Joy didn't enter Mara's piece for the blogger competition.
Eddie and Jerome get Mr. Sweet to let Mara's article be entered into the competition.
All Eddie and Jerome wanted was for Mara to have a fair chance at Blogger of the Year.
Mara tells Mick all about Jerome as they video chat. Mick is annoyed and wonders if Mara thinks the long distance thing is working and she says yes, but looks reluctant.
After ending her chat with Mick, Mara seems to realize she might have feelings for Jerome.
Mara looks like she wants to end the chat and go and talk to Jerome, could she possibly finally be falling for Jerome after all these months?
Mick looks upset that Mara isn't giving him much attention when once she had been obsessed with him; he doesn't seem to realize that she has started to 'move on'..
Mara and Jerome play the game "chubby bunny" in Mara's room.
Mara and Jerome are both dismayed when Mick calls Mara on video chat.
Jerome leaves, saying he knows his place. Though she wants the privacy, Mara is unhappy.
Mara isn't paying attention to Mick while they're on video chat. Mara begins to tell Mick she doesn't think the long distance thing is working.
After Mick guesses that Mara likes someone else, he hangs up and Mara texts Jerome, asking if they can talk.
Jerome looked happy when he looked at his phone which could mean that he got the text from Mara.
Mara tries to figure out how she wants to tell Jerome she likes him.
When Mara can't find Jerome she asks if anyone knows where he is. When Eddie says he left with his uncle, Mara is concerned.
Mara wins Blogger of the Year and says that she couldn't have done it without Jerome or Eddie.
Mara wished that Jerome was there to see her win the award and to probably thank him.
Mara tells Poppy that she also tried calling Jerome a bunch of times but it just went to voicemail.
Mara is offended that Patricia knew who Renee Zeldman was before she did.
Mara is worried about Jerome and is on his Chumchatter page, trying to see if he's okay.
When Eddie asks if Mara and Jerome are an item, she says no and asks why he would think that. Eddie responds that Jerome treats her like a queen and treats everyone else like scum.
Eddie points out that Mara's profile picture is of Jerome and her.
Mara says that her relationship with Jerome is complicated..
When Eddie asks Mara about Mick, she responds that he was more than just a penpal. Eddie points out that she used the past tense and that she has feelings for Jerome.
Mara is worried when Jerome doesn't show up for his father's parole hearing.
Mara assures Poppy that Jerome will show up for the hearing and gets angry with Mick when he says that he won't.
Mara is angry that Jerome didn't show up and says she thought he had changed.
Jerome tells her that he got the gem back on his own because he didn't want Mara to worry and he didn't want to put her in danger.
Mara is happy that Jerome got the gem back and that he has been reunited with his family.
Jerome pleadingly asks Mara out.
Mara replies with a smile and says yes.
Jerome kisses Mara!
Poppy and John Clarke smile when they see Jerome kissing Mara and argue about who told the other that Jerome and Mara would eventually get together.
Jerome and Mara dance together.
Both were smiling and laughing when they were dancing.
Season 3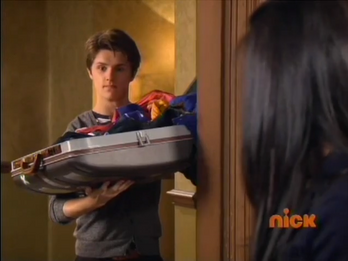 Mara screams "Jerome!" happily when she first sees him.
Jerome leaves his suitcase and rushes to meet her
Jerome picks Mara up to hug her.
Jerome twirls her around in the air
When they walk back to the house, Jerome's arm is wrapped around her waist
Jerome help Mara with her luggage.
Mara told Jerome about Amber's birthday.
Jerome helps Mara with her birthday idea for Amber, and hides the parcels in his room for her.
Mara asks Jerome to help her clean, and Jerome does so immediately.
Jerome makes Mara a picnic brunch which the two eat behind the curtains on the drama stage
They flirt a bit..
Mara says she wants to kiss Jerome, and he happily agrees.
The two are about to kiss when they get interrupted by Alfie.
Jerome and Mara look angry when Alfie intrudes.
Mara goes up to Jerome and asks him to study later.
She says she wants him all to herself. 
Jerome holds Mara's hand and the two are about to go on a walk
Jerome says 'You said something about a kiss?' 
The two lean in again, when they are interrupted by Alfie.
Jerome and Mara look angry that they didn't get to spend any time together.
Mara wants alone time with Jerome and is frustrated that Alfie keeps interrupting.
Mara and Jerome decide to study together.
Mara and Jerome initially join forces on the business project.
After disagreeing on how to do the project, Mara and Jerome make it into a friendly competition.
Jerome and Mara confront each other in the hall about Jerome being the best entrepreneur and Mara playfully challenging him about it.
Mara walks in on Jerome cooking the sauce for his snack project (hotdogs) and he begs her for help, because he had been cooking for two hours and couldn't take it anymore.
Whilst begging he gets onto his hands and knees and calls Mara 'My angel' and 'My Sweet'.
Jerome says he really wants to win to show Mara that he's not completely useless at everything.
He calls her (to Alfie) smart and brilliant.
Jerome ate all of Mara's 'fregetable bars' and she got upset at him because she had none left for the competition.
Jerome says the vegetable bar idea was actually a very good product.
Mara seemed very concerned that Jerome had eaten them all.
Mara finds out that Willow helped Jerome and Alfie with the hot dog sauce and gets mad since they are their competition.
Jerome looks guilty.
Jerome says that it wasn't Willow's fault because he asked her to help.
Mara says that Jerome isn't the person she thought he was and thinks they should call it off for a while.
Mara and Jerome are sitting eating dinner without talking to each other.
Trudy asks if they had a fight and Joy said that they split up.
Jerome said they aren't and he asks why does everyone automatically assume that it was him that did something wrong.
Moments later, Jerome decides to talk to Mara outside her room. He says he can't believe that he hurt her calling her his little "beansybop".
Mara seems forgiving after that but Joy says no. Jerome says whenever you need to talk..
Jerome works in the kitchen for hours making Mara Muffins
Jerome has Willow get Mr. Sweet out of his office, saying his "entire happiness" rests up on it.
Jerome uses a history project to claim his love for Mara, saying that she is the most beautiful girl of all days.
Mara tells Jerome that she forgives him, and takes him back.
They are flirting a little in Anubis House together.
Mara keeps looking over at Jerome during class.
Mara decides to write and perform a song about Jerome.
They walk into the girls hallway together.
Mara says she wants everyone to know the song is about Jerome.
Mara kissed Jerome on the cheek.
When he was performing, Joy asked what he was doing and Mara replied, "Being Jerome..." in a loving tone and gaze.
She was smiling at him a lot.
He told her the best part of the song was that she wrote it.
They were standing next to each other during Willow's poem.
In the evening, Mara gave him her hot chocolate. 
Jerome said that he didn't deserve her, but she said he was being silly. 
They kissed.
At night, Jerome got a text message saying: "I love you, Mara".
Jerome had two photos of Mara on the phone.
Mara looks jealous after Willow sits on Jerome's knee.
He tells Willow to keep the relationship a secret because he doesn't want to hurt Mara.
He gets mad at Joy for sending the email because it would break Mara (and Willow's) heart.
When he gets back to the school and caught by Mara and Willow, he lies and tells them he was watching the presentation and that it was the best he'd seen. 
Mara (and Willow) both smile at him dreamily after he says that, and he smiles back. 
Mara is hurt when Joy tells her (and Willow) about what Jerome was really doing.
She (along with Joy and Willow) decide to get revenge on him.
Mara sets up a "date" with Jerome and offers to help him with his schoolwork. 
She makes him a special Mexican dip and fresh lemonade (for the revenge prank)
Mara (along with Willow and Joy) continue plotting revenge on Jerome.
In order to get Jerome to go along with the fake singing competition, Mara tells him that he can do anything he sets his mind to. This seems to inspire him to join.
She officially breaks up with him, calling him a "Dirty, lying cockroach."
Mara tells Joy that she told Jerome that she loves him.
When Mara says she will inherit a lot of money, Jerome suddenly becomes very interested.
She says she's done with his scams and he apologies..
He keeps trying to say something but she keeps ranting to him about what he did and he appears very hurt when she is done..
Jerome bows to her and calls her "My Lady" while she is waiting for him to call her out on inheriting a dog.
Jerome offers to help her with the lawyer, but she retorts with "I am the granddaughter of a lord, and you are just the son of thief" and he gets very hurt and leaves the room.
Mara is determined to get Jerome back for what he did to her and Willow.
Mara looks mad when Willow says that Jerome and Joy are really cute together. 
Mara looks jealous whenever Joy and Jerome are together.
Mara was very jealous when she heard that Joy and Jerome were going on a date.
Mara and Jerome (and Joy and Willow) are working to set up the school play together.
Mara wanted Jerome to play the lead (so she could embarrass him).
Mara looked annoyed when she saw Jerome nearly kiss Joy.
They were leaving school together.
Mara left quickly when Jerome and Joy kissed, and angrily said it wasn't in the script.
Later she claimed she was only pretending to be mad to trick Jerome.
She kept telling Joy about how Jerome would make him think he liked her then break his heart at the last minute.
Jerome wasn't mad when he realized the play was a plan to embarrass him.
He told Joy that if it would make Mara happy he didn't care, because he just wanted this whole mess to be over.
Whenever she sees Joy she always reminds her to break Jerome's heart.
Mara is angry with Joy when she finds out she actually likes Jerome.
Mara called Jerome her boyfriend, not ex-boyfriend (to which Joy corrects her).
She was angry with Jerome when he broke up with Joy because he ruined the plan.
Mara says she doesn't want to be friends with Joy anymore because she likes Jerome.
Mara told Joy that Jerome broke HER heart, not Joy's.
Mara angrily got rid of all the stuff Jerome had given to Joy.
Mara said that all the stuff Jerome gave to Joy were meant to be for HER, not Joy.
Mara continued to act very possessive over Jerome. 
It was very obvious that Mara still had feelings for Jerome even though Joy and Jerome liked each other.
Joy told Mara about the letter and she said Jerome would do anything to trick someone into thinking he really cared about them.
Joy gave Mara Jerome's note.
Mara felt bad and decided to help Jerome and Joy get back together.
Jerome apologized for what happened.
She told him she didn't care anymore.
Mara accepted the fact that her and Jerome are over.
Mara threatened him about breaking Joy's heart.
When Mr. Sweet was announcing who was valedictorian, Jerome was pointing back and forth between Fabian and Mara. He stops and points at Mara knowing she was going to win.
Jerome looked so proud and happy when Mara won.
Jerome scares Mara (along with other girls) in the cellar. She yells "Jerome!" at him and Alfie.
Trivia
Frances Encell, the portrayer of Poppy Clarke, has mentioned on Twitter before that her favourite House of Anubis couple is Jara.
Mara was the first person Jerome told about his past.
Mara and Jerome both told people that their relationship was complicated before they became a couple.
Mara helped get Jerome's dad out of jail.
Mara was heartbroken when Jerome cheated on her and he later went out with Joy, meaning she truly loved him.
This pair probably will not return, because Mara will not return for Season 4 if there is one, and Jerome thinks Joy was the only girl for him.
Jerome had feelings for Mara since Season 1 altough Mara didn't feel the same.
Mara still has strong feelings for him.
They shared two kisses. One was to make Mick jealous, the other one was when Mara agreed to go out with him. They also had an almost kissed when Jerome tried to kiss her but she stopped him.
In the Season 3 premiere, it was shown that they had a strong relationship in the summer and is still going on. However, in House of Trickery / House of Unity, they broke up.
It is clear that Mara still loves him and she was really hurt when Joy said that she actually fell for Jerome.
Relationships
Relationship #1 (2.90 - 3.9)
Reason for Break Up: Mara said that Jerome was starting to mess up on a regular basis and that they should take a break.
Relationship #2 (3.12 - 3.24)
Reason for Break Up: She found out Jerome was dating Willow the same exact time that he was dating her.
Community content is available under
CC-BY-SA
unless otherwise noted.