House of History / House of Eclipse
Season 3, Episode 19 - 20
Airdate
March 6, 2013 (House of History) (on TeenNick)
March 7, 2013 (House of Eclipse) (on TeenNick)
Written by
Diane Whitley
Directed by
Angelo Abelo
Episode Guide
Previous
House of Set-Up
Next
House of Awakening
House of History / House of Eclipse are the 19th and the 20th episodes in Season 3 of House of Anubis and 169th and 170th overall. [1][2] They aired on March 6 (History) and March 7, 2013 (Eclipse).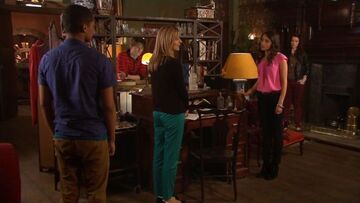 Plot
The Sibunas learn the history behind the man in the tank; Joy finds Jerome's list of pros and cons about Mara and Willow. Fabian, KT, and Eddie must get to their friends in time to stop the ceremony; Joy sends Mara and Willow an incriminating email.
Cast
Main cast
Recurring cast
Quotes
KT:
Hey Caroline, or is it Harriet? I get confused.
Caroline: What? KT?
KT: Maybe we should let the police figure it out?
Caroline: KT, what are you talking about? Who on earth is Caroline?
KT: *runs away*

Caroline:
KT, come back here. What do you mean police? *chases after her*
Eddie:
We should let the police know.
KT: And tell them what?
Eddie: Four students are held up at a Gatehouse against their will".
KT: And they'll be like "What for?" And we'll be like "To do a school project.

Fabian:
Yeah, Eddie, I don't think they'll send a SWAT Team, do you?
KT lures Caroline into Anubis House.
Caroline: KT, I will find you. *sees cellar door open and starts walking into the cellar*
KT: *tries to lock Caroline in the cellar but the plan ends up working vice-versa*
KT: Help, I have to get out of here!
Caroline: Sorry, KT. I don't think there's anyone else in the house to listen to your little tales.
KT: Let me out!

Caroline:
Looks like you're going to miss the eclipse.
There is noise coming from upstairs.
Caroline: Ah, those rats, let me go have a look.

Patricia:
That sounded like loud rats miss.
More noise from upstairs.
Caroline: Ah, it's those bats again.
Patricia: I thought you said it was rats?

Caroline:
Well, rats, bats, it's the same thing. ( in a nervous voice)
Trivia
This episode can also be known as House of Signals / House of Captures.
References
Community content is available under
CC-BY-SA
unless otherwise noted.