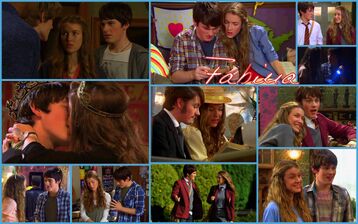 Warning: Some fanfictions may contain sexual content. Read at your own risk.
Back to the Past by Rachim - Summary: Nina and her fiance look back at the past and thats where my story takes place. Back in the past... Rated T; Unfinished.
What happens on the Weekends by Lovely SOS - Summary: Everyone is busy in the Anubis House- Fabian tries to find a way to tell Nina how much he likes her, Nina struggles with the mystery, Amber gets angrier with Mara and Mick, Alfie and Jerome have a boring new job... And it's almost Valentine's day, too. Rated K+; Finished.
Twists and Turns by Starlightchick - Summary: a death that crushes Nina's heart. Friends split, fights appear, and Nina and Fabian might just end up hating each other in the end? Rated T; Unfinished
House of Uncertainty by Tsurt Emit - Summary: Why does Nina seem to catch Fabian and Patricia having a 'moment' She pretends not to like him, because she thinks Patricia does. Fabian and the Girls set out to get Nina to fall in love with him.  Rated T; Finished.
Confrontations by Moondapple-or-Moonpelt - Summary: Patricia announces that she read Nina's diary and Nina gets mad, Mara gets worried, and Mick gets informed that he is in a love triangle! Rated T; Finished.
FairyTale by Starlightchick - Summary: Nina and Fabian are sick, and the rest of the house decides to tell them a fairy-tale, with themsevles in it. Patricia a fairy? Joy a princess? Fabian the prince! The royal ball is coming closer and Fabian might just end up with a certain princess. Rated T; Finished.
House of Gossip by FriendForEver - Summary: When something out of the ordinary happens, everyone just jumps to conclusions. Rated T; Finished.
Off to America by MeredithGlass - Summary: Nina's Gran has died, and Nina must go back to America to take care of things and meet her new gaurdian, taking a couple friends with her for support. What will she do when she finds that not everyone is feeling sorry for her?  Rated T; Finished.
House of Ellada by water wolf 100 - Summary: A summer in Greece leads Sibuna to their greatest mystery yet. When tensions rise in this island paradise will the Anubis House students find happiness in the sun or will their relationships be reduced to ruins? Rated T; Finished.
A Mending Soul by ShanandRay - Summary: When Nina and Amber are almost rape victims one night, Nina shuts down and can't seem trust anyone besides Amber. And Fabian, of course. Fabian takes on the responsibility of putting the little pieces of her shattered soul back together again. Rated T; Unfinished.
Never Planned For by TheDodger55 - Summary: See the HOA gang in the biggest adventure yet! Nina draws closer to death in the hands of Victor, but he has the best alabi he could ask for, Fabian and his promises. Now it's up to Fabian, and unlikely British hero, to clear things up and save the day! Rated K+; Finished.
Breathe by samantha1102 - Summary: Every little piece of me. You'll see. Everything is alright. But sometimes it's not all alright, and now it's not for Nina and Fabian. Rated T; Unfinished.
Absolute Perfectionby Taymontu - Summary: It's the hottest day of the summer and Anubis house goes to Fabian's Mansion to use his pool but while their there they fall in love. Rated T; Finished.
There Life 5 years laterby Fashionablyobsessed - Summary: How has life been 5 years after the mystery? Rated T; Finished.
The Curse of Tutankhamen's Crown by DanBing - Summary: My first story. What happens when Nina's gran comes to live in England, in a mysterious new house? Rated K+; Unfinished.