Eugene Michael Simon is a British actor and fashion model and is best known for his roles as Jerome Clarke on House of Anubis and Lancel Lannister from Game of Thrones.
Eugene is a British actor, born and raised in the UK with strong Irish roots. Best known for his work as Lancel Lannister in HBO's Game of Thrones and Jerome in House of Anubis, he is the only actor in his family having started at a young age.
Eugene has spent the past three years between his home in London and his new life in Los Angeles. His ambition first drew him to LA at eighteen with two hit TV series. Pursuing his love of acting Eugene spends shared months of the year in each.
Born 11th June '92, the middle of three. Eugene has a fondness of languages, speaking French and Spanish well. He planned studying Philosophy at University but the very day he left school started three years of work, filming two series & two films.
Eugene portrays the role of Jerome Clarke on House of Anubis.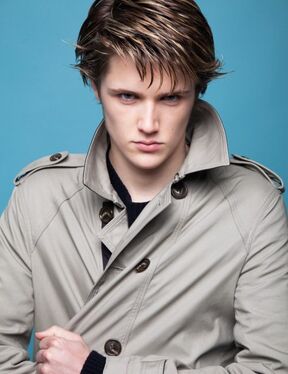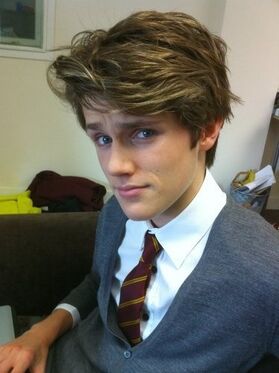 Trivia
He has shown some feelings for Jade Ramsey.
It has been rumored that he and Ana Mulvoy Ten are dating.    
He's a British actor and fashion model.
He went to prep school at St. Philips in London and later attended Bryanston School and Downside School, boarding schools in the south of England.
He is the tallest out of all the Anubis residents
He had onscreen parents.
Eugene Simon got the role for House of Anubis and for Game of Thrones on his birthday. 
He and Francis Magee (Victor) have both been on Game of Thrones.
He is an animal lover.
He owned 22 budgies.
Eugene, Ana Mulvoy Ten, Alex Sawyer and Brad Kavanagh, all met in a room while waiting for the castings.
When he told Bobby he was a psychic, he believed him for a week until Eugene told him it wasn't the truth.
He was bullied in boarding school, so he had to leave and went to another boarding school which was better.
He has webbed fingers.
He has an outie belly button.
In Anubis Unlocked he said if Patrome happened they would be the best couple.
He will be releasing his website on February 24th.
Prior to being cast as Lancel Lannister, Simon had auditioned for the role of Joffrey Baratheon.
Out of all the season 1&2 cast he is the only one verified on Instagram.
Filmography
Movies
| | | |
| --- | --- | --- |
| Year | Movie | Role |
| 2005 | My Family and Other Animals | Gerald Durrell |
| 2005 | Casanova | Casanova (age 11) |
| 2006 | Alpha Male | Young Felix |
| 2015 | Before I Sleep | Young Eugene |
| 2015 | Eden | Kennefick |
| 2015 | A Secret Job | TBA |
Television
| | | |
| --- | --- | --- |
| Year | Show | Role |
| 2003 | My Dad's the Prime Minister | Harry (4 episodes) |
| 2004 | Murder in Suburbia | Josh Taylor (1 episode) |
| 2005 | Noah and Saskia | Eddie (1 episode) |
| 2010 | Ben Hur (TV miniseries) | Young Ben Hur (2 episodes) |
| 2011-2013 | House of Anubis | Jerome Clarke |
| 2011-2015 | Game of Thrones | Lancel Lannister |
| 2011 | Summer in Transylvania | Max |
| 2013 | House of Anubis: The Touchstone of Ra | Jerome Clarke |
Community content is available under
CC-BY-SA
unless otherwise noted.