Bralex (Bra/d and Alex/andra) is the real life friendship pairing of Brad Kavanagh and Alexandra Shipp. These two seem to be very close friends; they appear to be very kind towards one another and are in many photos together. They were also seen hosting the 'Kids Choice Awards 2013 Countdown' together, and they presented one of the awards together.
This page is for friendship, although they do have some shippers.
To view the character pairing of KT Rush and Fabian Rutter, see Kabian.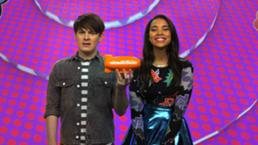 Trivia
They took pictures together in the photobooth at the KCA.
They both hosted the UK Nominee Show.
They both hosted the 'Kids Choice Awards 2013 Countdown.'
They are seen on set together laughing and joking around. 
In Anubis Unlocked, Brad says that Ali is very bubbly and fun and that she fit in well. 
Ali says that Brad is a lot of fun. 
They are seen in interviews together. 
They seem to have a lot of fun together.
In behind the scenes of the KCA awards, she playfully shook him.
Community content is available under
CC-BY-SA
unless otherwise noted.