Anubis Unlocked
is a 15 minute Behind-the-Scenes special from the T.V. show
House of Anubis
. It is on every Friday after a House of Anubis episode, although, even though House of Anubis airs in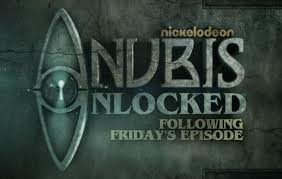 the USA as well as the UK and many other places, this show only airs in the UK. Anubis Unlocked was First presented by British presenting duo, Jamie and Anna in the first season of Anubis Unlocked. In the
Season 3
version, however, there was no host with the exception of the narrator. Different cast members were to introduce and finish the show, with a voiceover guiding the audience throughout the rest of it.
Anubis Unlocked has the same theme song as the original House of Anubis show; however, instead of the cast member's full names, it has their character's first name instead.
Messages of fans' opinions are shown at the bottom of the screen, as if a comment is made on an Anubis Unlocked blog at nick.co.uk, it could be shown.
The show starts off with the cast either being asked questions, or answering them. Then, questions are asked to "fans" of the show, and some celebrities, including Olly Murs and Nicole Scherzinger.
Then, behind the scene clips are shown. A challenge follows, in which a cast member or two take part. Once it was Jade pairing faces to couple names, and another time it was Brad and Nathalia drinking disgusting drinks eg. cheese juice.
It is then followed by a riddle, for the viewers to try and figure out.
Season 1 aired 10 episodes from February 25, 2011 to May 20, 2011.
It did not continue when Season 2 aired on Nickelodeon UK.
It returned in 2013 for Season 3 - confirmed by Nickelodeon UK PR: "House of Anubis returns to screens in 2013! Production of behind-the-scenes shorts of Anubis Unlocked begins today in Liverpool!"
Season 3 of Anubis Unlocked first premiered on April 19, 2013 and the last [full] one aired before the Season Finale on June 7, 2012.
Cast
The cast in Season 1 is the same as the cast in the show, with the exception of Klariza. In Season 3, every main cast member is in Anubis Unlocked. In addition, there are two hosts that ask questions about the show to the cast and set challenges for them, called Jamie and Anna.
Theme Song
Airings
Anubis Unlocked starts after Friday's House of Anubis (5PM) in the UK.
It aired throughout Season 1 but did not show throughout Season 2. The show returned to air during Season 3
U.S.A
American's only get 'Anubis Unlocked' on Youtube
Episodes
These are the episodes so far in Anubis Unlocked. 10 episodes aired for Season 1, 8 aired for Season 3 and a short special was made for The Touchstone of Ra.
Community content is available under
CC-BY-SA
unless otherwise noted.